Steve Wilson & Wilsonian's Grain Live at Smoke in September!
Steve will be taking a break from touring with Chick Corea to perform with his Wilsonian's Grain band: Orrin Evans, Ugonna Okegwo and Bill Stewart on Sept 8-10 at Smoke in NYC. Check out Steve's tour page for more details.
Steve's recent Before & After in Jazz Times
Click here to read Steve's recent Before & After with Larry Applebaum.
Steve now touring with Chick Corea again!
Steve is currently touring in the Corea/Gadd Band. The tour will bring them to Japan, the US, South America and Europe through the end of November. New York fans, they will be at he Blue Note September 19-23 and 26-30. The band also features Lionel Loueke, Carlitos Del Puerto and Luisito Quintero. Check Steve's Tour Dates page for a concert near you.



STEVE WILSON & WILSONIANS GRAIN
LIVE IN NEW YORK: The Vanguard Sessions.
Random Act Records
RELEASE: MARCH 23, 2015
"Wilsonian's Grain is jazz at its finest – in conception, execution and spontaneity." WBGO Radio





7/20/2018 thru 7/22/2018
Shanghai Conservatory, Shanghai, China

7/25/2018
JZ Club, Shanghai, China

7/26/2018 and 7/27/2018
Blue Note Beijing, Beijing, China

9/5/2018
Blues Alley, 1073 Wisconsin Ave. NW Washington, DC 20007

9/6/2018 thru 9/9/2018
Jazz Standard, 116 E 27th St. New York, NY 10016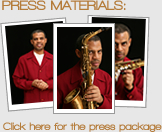 "a complete lyricist and adventurer as an improviser... He interprets my compositions as I would have myself if I played his horns."
Chick Corea, Rendezvous In NY