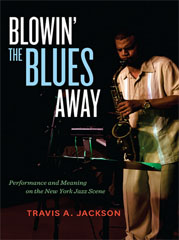 BLOWIN' THE BLUES AWAY
by Travis A. Jackson

Steve is on the cover of, and has a feature interview in a newly released book written by Travis A. Jackson, an Associate Professor of Music and the Humanities at the University of Chicago. 'In Blowin' The Blues Away,' Prof. Jackson explores both the ways in which various participants in the New York City jazz scene interpret and evaluate performance, and the criteria on which those interpretations and evaluations are based. Through the notes and words of its most accomplished performers and most ardent fans, jazz appears not simply as a musical style, but as a cultural form intimately influenced by and influential upon American concepts of race, place, and spirituality.

The book is available now at Barnes and Noble.