Debut of Steve Wilson & The Analog Band This Fall!
Celebrating the release of his newest recording, Steve will be appearing at Blues Alley in Washington, DC on Sept 5 and Jazz Standard Sept 6-9, 2018. Sit Back Relax & Unwind, produced by Steve and Tonight Show Music Producer Steven Mandel, has been released by J.M.I Records. It is an analog recording, released only on vinyl. RoughTrade called the release "Mr. Wilson's definitive artistic statement..." and DustyGroove described it as "one of the most beautiful records we've heard from Steve Wilson..."


Wilsonian's Grain to Tour Europe in November
Steve will be taking his band Wilsonian's Grain to Europe November 6 - 21. Dates will be announced soon! Check out Steve's Tour Dates Page for all of his up-coming live shows.
Follow Steve on Instagram and Facebook.





10/17/2018
Music Academy of Garden City, Garden City, NY

10/20/2018
Apollo Theater, 253 W 125th St New York, NY 10027

10/22/2018
Schomberg eEnter, 515 Malcolm X Blvd New York, NY 10037

10/24/2018
Opera Theatre, Clermont-Ferrand, France

10/26/2018
The Everyman, Guinness Cork Jazz Festival, Cork, Ireland

10/27/2018
Duc Des Lombards, Paris, France

10/29/2018
Conservatori Liceu , Voll-Damm Festival Internacional de Jazz de Barcelona Barcelona, Spain

10/31/2018 and 11/1/2018
Pizza Express, 10 Dean St Soho, London W1D 3RW, UK

11/6/2018
Teatro Ristori, Via Teatro Ristori 7 37122 Verona

11/7/2018
CAFFÈ PEDROCCHI, Padova Jazz Festival, Via VIII February 15, 35122 Padua PD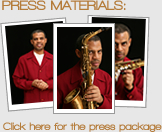 "a complete lyricist and adventurer as an improviser... He interprets my compositions as I would have myself if I played his horns."
Chick Corea, Rendezvous In NY