Catch Steve at the last gigs of 2016!

As the year draws to a close, Steve is keeping busy as usual. Come on out and say good-bye to this very challenging year with some great music:

Nov 22 and 23 at Jazz Standard in NYC with the Maria Schneider Orchestra
Nov 25 - 27 at the Blue Note in NYC with Chick Corea and Origin II
Dec 2 - 4 at Smoke Jazz Club in NYC with Wilsonian's Grain (featuring Orrin Evans, Ugonna Okegwo, and Nate Smith)
Dec 9 at the Massry Center for the Arts with George Cables and Ira Coleman
Dec 29 - Jan 1 at the Umbria WInter Jazz Festival with Lewis Nash

Wishing you a musical and happy holiday season!




STEVE WILSON & WILSONIANS GRAIN
LIVE IN NEW YORK: The Vanguard Sessions.
Random Act Records
RELEASE: MARCH 23, 2015
"Wilsonian's Grain is jazz at its finest – in conception, execution and spontaneity." WBGO Radio





4/27/2017
WBGO Radio at Yamaha Artist Services, NYC

5/5/2017
Jazz Standard, 116 E 27th St. New York, NY 10016

5/7/2017
Disney Hall, 111 SOUTH GRAND AVENUE LOS ANGELES, CA 90012

5/19/2017
Chicago Symphony Center, 220 S. Michigan Ave. Chicago, IL 60604 312-294-3000

6/7/2017 thru 6/10/2017
Blue Note Tokyo, Tokyo, Japan

8/5/2017 thru 8/11/2017
Brubeck Institute, Stockton, CA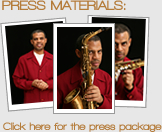 "a complete lyricist and adventurer as an improviser... He interprets my compositions as I would have myself if I played his horns."
Chick Corea, Rendezvous In NY